Janice (Jenny) McEwan (nee Ward)
Jenny was born in 1953 in Wagin WA. She is the sixth child born to Oliver Henry Ward and Dorothy Valentine Jones. Jenny spent most of her childhood around the Woodanilling and Katanning areas. Jenny's father Oliver (Olley) was a shearer and her mother Dorothy (Kitty), was a domestic in the local hotel. Jenny recalls fond memories of living with her family even though she said life was hard, "but we all had to help out". Because her parents both worked, Jenny stayed at home to help raise her siblings. She would get them all up and off to school then cook and clean until her parents returned home in the evenings. Jenny attended grades 1-4 at Woodanilling primary, then grades 5-7 at Katanning Primary. She dropped out of school in grade 8 to help her parents care for her siblings.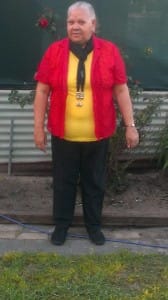 In Jenny's later years she had a family of her own; Eric, Brian, Naomi, Oliver and Sheraee. She was living in Narrogin at the time and met a man called William (Bill) McEwan who later became her husband. Jenny lived in Narrogin until 1987 when they decided to move to Perth. Bill and Jenny have raised their children as well as many more other children in the Kewdale area were they remain today. Bill and Jenny are also active grandparents to over 23 grandchildren.
Jenny is a well-respected Elder and is often asked to attend and deliver "Noongar Welcomes" on behalf of the Belmont Shire. Jenny has travelled extensively throughout WA as the coordinator of the ASTI dart carnival, and is also an active dart player with a team called the "Dark Vaders".
Currently Jenny is a sought after Elder at the Belmont Shire in an advisory role and she also sits on the Bentley District Aboriginal Action Group (DAAG), advising community health services of the issues within the Aboriginal community.
Jenny is also an active member of Kinship Connections and you will meet her at all of Kinship Connections gatherings.